Western-Based Team Beginning a HiRISE Imaging Campaign in A NEW Mission Control Facility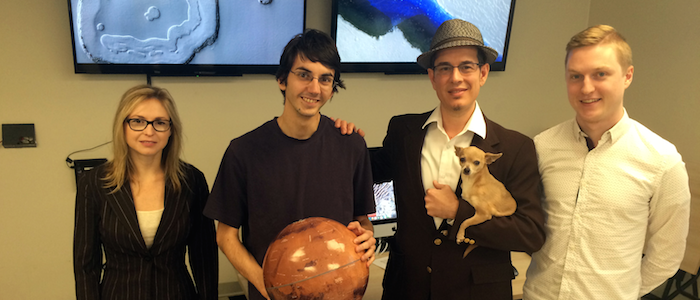 Our Western University-based team is gearing up once again to help plan a 2-week set of HiRISE images starting this week (HiRISE is a high-resolution camera on the Mars Reconnaissance Orbiter – MRO). The Western-based team, led by Earth Sciences Adjunct Research Professor Dr. Livio Tornabene (a veteran HiRISE Science team member), will include Earth Sciences PhD candidate Christy Caudill (who has some HiRISE heritage of her own; see here), Geography Master's candidate Ian Pritchard, and returning member Eric Pilles (Earth Sciences PhD candidate). The team will be enjoying another exciting imaging campaign with the University of Arizona's Lunar and Planetary Laboratory HiRISE Operations Team, including HiRISE targeting specialists (HiTS) Nicole Baugh and Anjani Polit. This will be their 3rd time leading the science-planning  of HiRISE images from Canada, but it will mark the first time that it will be done in the Centre of Planetary Science and Exploration's (CPSX) NEW mission control facility housed in the Department of Physics and Astronomy (see President Chakma Visits CPSX's Mission Control Room and Mars Rover Mission Control at Western).
HiRISE's 243rd imaging campaign [cycle] executes on Saturday, February 20th and continues to Saturday,March 5th as Mars continues into Northern Summer/Southern Winter. The team anticipates taking ~150-200 images, including current and future landing sites, Northern summer thaw/sublimation processes and the onset of frost-deposition in the Southern Hemisphere.
Follow us on Facebook and Twitter at @RocDocMars or @WesternUCPSX