News
Moonshots, meteors and planets: Here are just a few things to look forward to in space in 2023 Social Sharing

"The main issue is the nearly full moon at the time of the peak, which will be around midnight on Jan. 4 local time," Peter Brown, Canada Research Chair in meteor astronomy and a professor at Western University in London, Ont., said in an email.

---

Western researchers among first to capture James Webb Space Telescope images

These images have been obtained as part of the Early Release Science program Photodissociation Regions for All (PDRs4All ID 1288) on Webb. Co-led by Peeters, French National Centre for Scientific Research (CNRS) scientist Olivier Berné, and Institut d'Astrophysique Spatiale (IAS) associate professor Emilie Habart, PDRs4All is an international collaboration which involves a team of more than one hundred scientists in 18 countries, including Western astrophysicists Jan Cami, Ameek Sidhu, Ryan Chown, Bethany Schefter, Sofia Pasquini and Baria Kahn.

---

Western team achieves international holographic teleportation

Holographic teleportation sounds like something out of Star Wars or Star Trek, but instead of the bridge of a flashy interstellar spaceship, a futuristic technological achievement took place in a nondescript boardroom on campus at Western recently. The term holographic teleportation, or holoport, is a combination of hologram and teleport: when a hologram of a person or object is transmitted instantaneously to another location.

---

Canadian-made tools on Webb space telescope help provide spectacular views of space

"It was so hard, and just the fact that all of these people working together around the world were able to make something so beautiful, so precise, so functional, and it's delivering exactly or even better than promised." - Dr. Sarah Gallagher

---

Black Hole Image Reveals the Beast Inside the Milky Way's Heart

Both observations are glorious in their own right: beautiful results that are "an affirmation of the scientific process," said Dr. Sarah Gallagher
---

---
Google Scholar page! 

Western Space now has its own Google Scholar webpage that includes the publications of its faculty members! Click here to access it and follow it. 
---
Axiom Space's Ax-1 mission, the first privately crewed mission to the International Space Station (ISS) launched on April 8, 2022 and returned on April 25, 2022.
AX1 has returned to Earth from the International Space Station with images of Earth. Western students volunteered to help explore and contextualize these images! Now the images have captions and are being shared across our social media platforms. 
Sample image: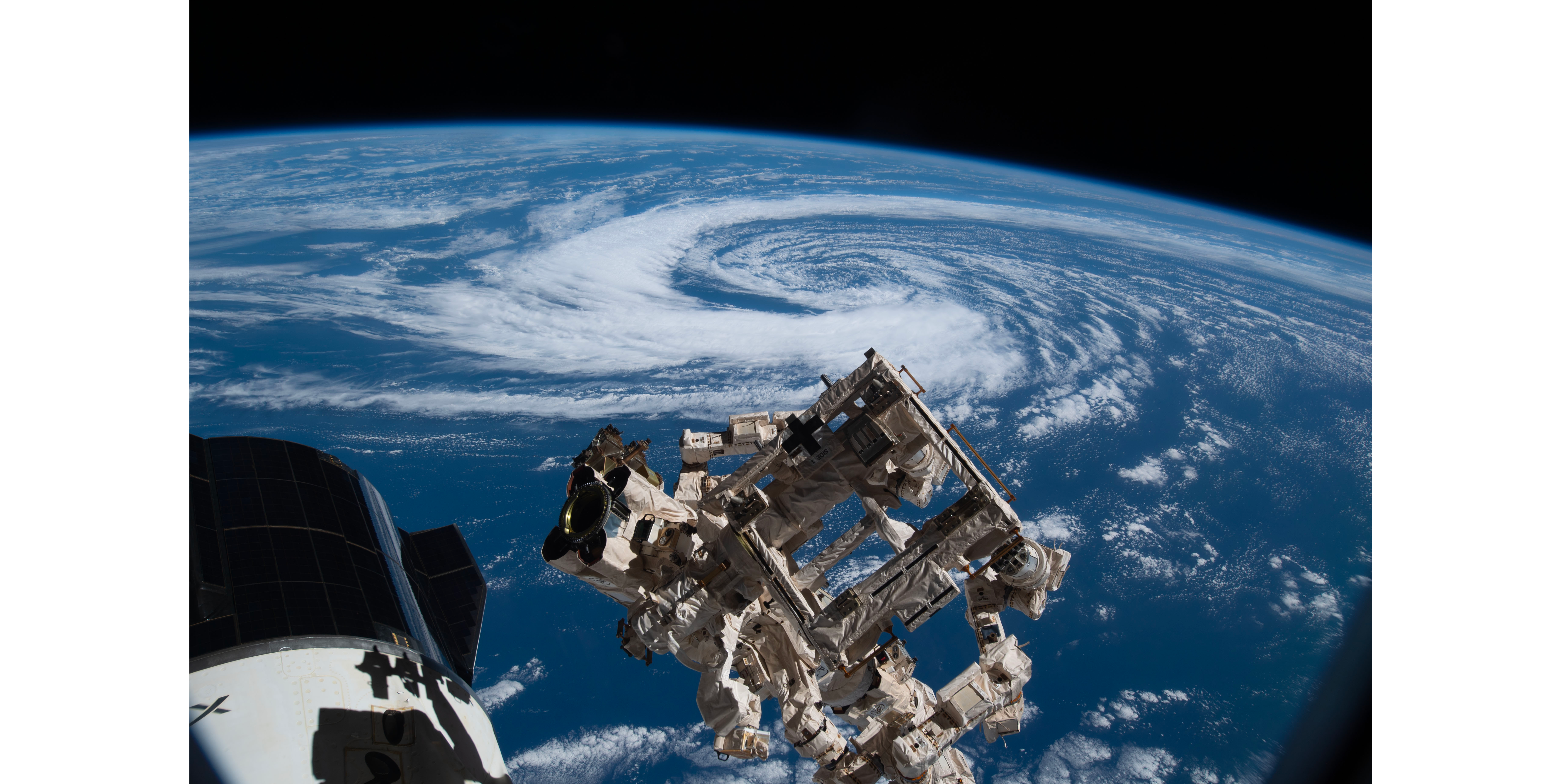 Image credit: NASA/Mark Pathy
A mature stage midlatitude cyclone taken on April 22 over the Atlantic Ocean.  The cloud patterns represent a cyclone (counter-clockwise) circulation about the centre of low pressure (visible in the middle of the pattern).  Moist air circulates inwards towards the centre of the low and upwards, condensing to form clouds.  The 'comma' cloud shape indicates the midlatitude cyclone is at a mature life cycle stage; the long tail of the 'comma' is typically associated with a cold front.
---
Space as a National Asset for Canada (SNAC 2022) 
The Institute for Earth and Space Exploration (Western Space), the Rotman Institute of Philosophy, and the Faculty of Science hosted a three-day conference for Space as a National Asset for Canada (SNAC) from Oct 31-Nov 2, 2022 in London, Ontario. Stay tuned for the conference summary report that will be shared in January 2023! 
---