News
Western team achieves international holographic teleportation

Holographic teleportation sounds like something out of Star Wars or Star Trek, but instead of the bridge of a flashy interstellar spaceship, a futuristic technological achievement took place in a nondescript boardroom on campus at Western recently. The term holographic teleportation, or holoport, is a combination of hologram and teleport: when a hologram of a person or object is transmitted instantaneously to another location.

---

Canadian-made tools on Webb space telescope help provide spectacular views of space

"It was so hard, and just the fact that all of these people working together around the world were able to make something so beautiful, so precise, so functional, and it's delivering exactly or even better than promised." - Dr. Sarah Gallagher

---

Black Hole Image Reveals the Beast Inside the Milky Way's Heart

Both observations are glorious in their own right: beautiful results that are "an affirmation of the scientific process," said Dr. Sarah Gallagher

---

James Webb Space Telescope captures sharpest ever views of universe in 'extraordinary milestone for humanity'

"I was absolutely thrilled," said Els Peeters, an astronomer at Western University in London, Ont., who will be among the first to use the new telescope as part of a project to study hydrocarbon molecules in space.

---

Western crew preps Space Station-bound astronaut for Ax-1 mission

Researchers at the Institute for Earth and Space Exploration (Western Space) have worked with Canadian Mark Pathy, who is one of the astronauts boarding Ax-1, to help the entrepreneur and philanthropist fulfill the theme of his 10-day mission plan: Caring for People and the Planet.
---

International Two-way Holoportation! 
We are excited to share that we have successfully tested the world's first International two way holoportation led by Dr. Adam Sirek! 
 "We transported one person from Alabama to London, Ontario, and then each of the students here on the project were able to instantly holoport themselves in holographic form down to Huntsville, Alabama," Dr. Adam Sirek said. Read more. 

---
STEM Outreach in Cochrane, ON
We attended the Stardust STEM Festival in Cochrane, ON, August 1st-13th. It was an excting week filled with STEM outreach activities and networking. We met space industry leaders and attended many great presentations. The event coincided with Canada's first  student rocket launch competition, which had more than 150 engineering students competing! 

---
---
Latest Research Missions: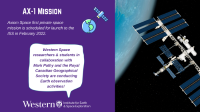 Ax-1 Mission 
Ax-1 Mission, the first private space mission to the ISS lifted off in April 2022! A team of Western Space researchers & students are collaborating with Mark Pathy, one of the crew members and the Royal Canadian Geographical Society to conduct Earth observation activities! Click here to learn more.