News
NASA nails trickiest job on newly launched space telescope

"The 7-ton James Webb Space Telescope is so big that the sunshield and the primary gold-plated mirror had to be folded for launch. The sunshield is especially unwieldly -- it spans 70 feet by 46 feet (21 metr3s by 14 metr3s) to keep all the infrared, heat-sensing science instruments in constant subzero shadow."

---

Highlights From the James Webb Space Telescope's Long-Awaited Launch

In French Guiana, the most powerful space observatory ever built lifted off Christmas morning.

---

More than 25 years in the making, Webb is the first telescope large enough and precise enough to make such a measurement from space, where the infrared light that is most revealing about other worlds is not blocked by Earth's atmosphere. And that's just the beginning.

---

NASA's 10 billion dollar space telescope is finally going to launch — with CanCon

Sarah Gallagher, a professor of physics and astronomy at Western University and the scientific advisor for the president of the Canadian Space Agency, said Canada contributed two key instruments to the telescope. The first, a fine guidance system, will help the telescope lock on to different astronomical objects. The other — a scientific instrument — will use infrared wavelengths to capture images that can penetrate dust and gas to see the light that lies beyond.

---

Sarah Gallagher takes helm at Western Space: New director shares vision for interdisciplinary space research collaboration

Dr. Sarah Gallagher said she would like to build on Western's strengths in space research; build capacity in Earth and atmospheric observations; tap into more big-data analysis; and continue to work with governments on solving big, universal problems.
---
What's New?  
---
Click here for the latest Research Funding Opportunities.  
Experiential Learning Funding Opportunity!  
Course: PlANETSCI 9605L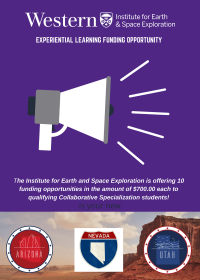 The Institute for Earth and Space Exploration is offering 10 funding opportunities in the amount of $700.00 each to qualifying Collaborative Specialization students. For consideration for this funding, Please fill out this form once you have registered for the course through Earth Sciences.  
---
Upcoming Research Missions: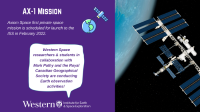 Ax-1 Mission 
Ax-1 Mission, the first private space mission to the ISS is scheduled for launch end of February 2022! A team of Western Space researchers & students are collaborating with Mark Pathy, one of the crew members and the Royal Canadian Geographical Society to conduct Earth observation activities! Click here to learn more.   
---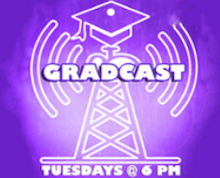 GradCast- Planetary Science edition! -Check Us out on Spotify!
Hit play on our collection of expertly curated interviews with our Planetary Science Grad Students. From microbial life to rover operations, Western Space grad students show their diversity in research and passion for planetary science and space exploration. To open the Play list
click here